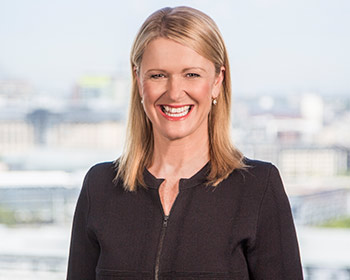 Cathy has 30 years corporate, commercial, and investment banking experience, with a diverse career banking enterprises ranging from small businesses and family businesses, to multi-national corporations, and Australia's largest listed companies and financial institutions.

Cathy was appointed to the role of General Manager Business Banking, St.George Group, in 2015. In this role, she is responsible for the business banking activities of St.George Bank, BankSA, and Bank of Melbourne. She is also an Executive Director of the Advisory Boards of BankSA and Bank of Melbourne, and a non-executive Director of the St.George and Sutherland Medical Research Foundation.

Prior to joining Westpac Group, Cathy held senior roles at Commonwealth Bank of Australia, where she lead the Institutional Bank's global team of relationship bankers; Barclays Capital, where she led the Corporate Investment Banking team for Australia and New Zealand; and at GE Capital, and Bank of America.
Cathy holds Bachelor of Commerce (Marketing) and Bachelor of Laws degrees from the University of NSW, and an Executive Certificate in Strategy and Innovation from MIT Sloan School of Management. She is a Graduate member of the Australian Institute of Company Directors, and has been actively engaged in the not-for-profit sector for over ten years.