Inspiration Ignition Ignitor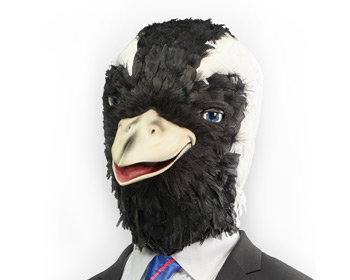 The legendary Piping Shrike joined the BankSA team in November 2015. He was blessed with the self-scribed title of Inspiration Ignition Ignitor, just one of the many dazzling names he's been given over the centuries.
Prior to joining BankSA, Sir Shrike had been working behind the scenes, gently shaping South Australia into a paradise. He gained a wealth of experience in motivation and proclamation, claiming to have had a hand (if you can call it that) in pretty much every great thing the state has done. From brewing iconic ales to making pants dry to claiming Grammy awards, old mate Piping Shrike in some way shape or form, through varying degrees of separation, has been the inspirational force behind all South Australian greatness. Just don't check his references.
He has a Masters Degree and doctorate in South Australian-ism majoring in just generally being heaps good at everything and knowing a lot about a lot, especially worms, whiskey and the Hilltop Hoods discography. But mostly he's an expert in keeping our state the central Australia… of the south. And he's always happy to act as your wingman. Just don't call him a magpie.