Our current assessment service levels for initial application assessment are:
Flame - 1 business day
Flame self-employed- 3 business days
Gold - 2 business days

Accredited - 11 business days

Gold & Accredited self-employed - 9 business days
*For initial application assessment if documents imaged to the file by 5pm AEDT.
Broker Credit Policy & Scenarios:
We have introduced a dedicated email to support you with credit scenario questions - creditscenariosSTG@stgeorge.com.au.
Ensure you include the below details in your email and a dedicated Credit Manager will respond by email or a phone call to discuss your query within 3 business hours:
Broker name
Broker ID
Business Development Manager
Contact number
The existing Credit Hotline will be temporarily closed from Monday, 6 April 2020.
Winner of Bank of the Year for First Home Buyers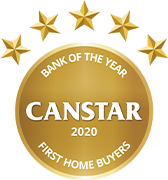 Awarded 2020 Canstar Bank of the Year – First Home Buyers
Recognised for offering outstanding value and outstanding planning, application, settlement and management of your home loan.