How to help your clients into their home sooner
One of the biggest hurdles when buying a home is the time it takes to save for a deposit.
Family Pledge
Family Pledge allows for a family member to guarantee part of your client's home loan - while having the peace of mind to set the guaranteed amount. Find out more.
Help your clients replace first home nerves with know-how.
Buy with confidence
Let your clients research the neighbourhood – and whether they can afford to buy there – with our free online full Property Reports.
Search address or suburb
Help your clients with home loan jargon
Show your clients our bite-size videos on everything from "comparison rates" to "split loans". They'll be busting the home loan jargon in no time.
Watch videos
The bank for first home buyers

Awarded at RFi Group Australian Lending Awards 2021 for Best First Home Buyer Lender.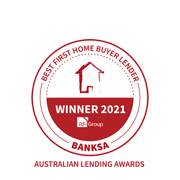 Quick tips, handy tools, and resources
Important information
Credit Criteria, fees and charges apply. Terms and conditions available on request. Based on BankSA's credit criteria, residential lending is not available for Non-Australian Resident borrowers.
If any of the information related to (or provided by) Westpac Group that you rely on is printed, downloaded or stored in any manner on your systems, files or otherwise, please ensure that you update your systems and files with the most up-to-date information provided by us and rely only on such updated information.
1Advantage Package Terms and Conditions apply. A $395 annual package fee applies and is payable from an eligible BankSA transaction account. An Advantage Package discount has been included in the advertised eligible rate. The discount and fee savings apply for the duration of the package. Before deciding to acquire a BankSA transaction account, read the terms & conditions, and consider if the product is right for you.
#LVR stands for the initial loan to value ratio at loan approval. LVR is the amount of your loan compared to the banks valuation of your property offered to secure your loan expressed as a percentage. Home loan rates for new loans are set based on the initial LVR and don't change because of changes to the LVR during the life of the loan. Any applicable LVR discount has been included in the advertised eligible rate.