Lock away your money for a period of time and get a guaranteed return1.
Earn a competitive interest rate
No setup or monthly fees
Flexible interest payment options
Suitable for DIY / Self Managed Super Funds
Special offer:
Earn 2.45% p.a. for 12 months on balances $1,000 to less than $250,000 with interest paid at maturity1
Flexible maturity options: 1 month to 5 years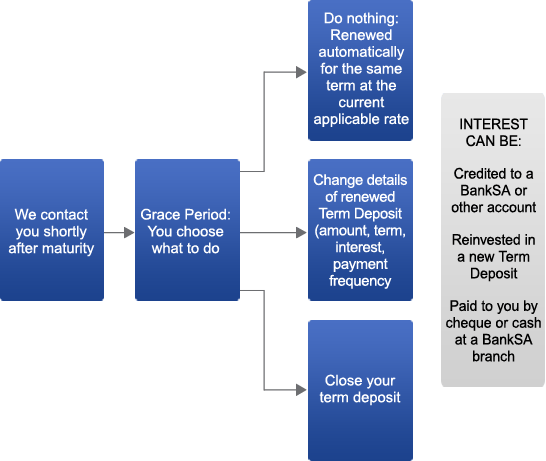 To reinvest a Term Deposit via Internet Banking please follow these steps:
Logon to Internet Banking
From the 'My Accounts' page select the 'Renew now' link. (Please note, the renew now link will only be available when your Term Deposit is in its grace period)
Choose renewal options and complete the online form
You will be presented with a confirmation screen to ensure that all the information provided is correct and accurate.
You can also reinvest a term deposit at any BankSA branch during business hours or by calling us on 1800 804 411.
Important information
Conditions apply.
Find out what information you need to provide to become a customer.
Special rates will apply for a single term. Standard Term Deposit rates may apply for any subsequent term. Special rates are not available for corporate, institutional or government customers.
Before making a decision, it's best to read the terms and conditions and important information document.
Please read these documents and keep a copy. You can request a paper copy at your local branch.
The advice on our website is prepared without knowing your financial circumstances. Before you act on this or any advice, please consider if it's right for you. If you need help, call 1800 804 411.
BPAY® registered to BPAY Pty Ltd ABN 69 079 137 518
24/7 access is subject to systems availability. Daily transaction limits apply.
1. Following lodgement of the minimum balance requirement, the rate is guaranteed for the term of the investment. Returns may be reduced if an amount is withdrawn on a minimum 31 days' notice prior to maturity. Term deposits are "protected accounts" under the Financial Claims Scheme (FCS). Payments under the FCS are subject to a limit for each depositor. For more information see the APRA website at http://apra.gov.au