Digitise your business in five steps
From setting up a website to online marketing, using digital document storage and managing finances online, digitise your business with these useful tips.
3 minute read
What's in this article:
A good business website is a must
Selling online can help you reach more customers
Share what you do with pride – online marketing is important
Digitising your business can also help you streamline your admin work and manage your finances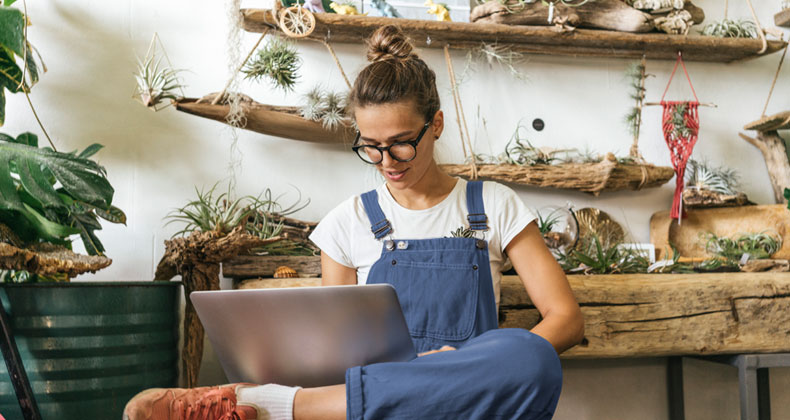 These days, balancing your life between the 'physical' world and the 'digital', or virtual, world has become the new norm. And this is no different when you're running a business. In fact, the COVID-19 crisis has made being 'digitally ready' even more important for business owners. Is your company yet to master coexisting in both worlds? We've got five tips to help you digitise your business.
1. Digitise your business – build or update your website
Nowadays, people learn more about a local business online than anywhere else. Websites are incredibly powerful. They are a virtual shop window for your products or services, helping your customers understand what you do and why. They also allow you to share what you're proud of and make it easy for people to connect with you.
First, you'll have to register a domain name and pick a web hosting service. There are many platforms like Wix, GoDaddy or Squarespace which offer different tiered subscription models with a range of attractive templates to choose from.
2. Digitise your business - start selling online
Online businesses don't sleep, meaning if you sell online, you can be open 24 hours a day, seven days a week. Even if your customers usually come to you in person, a well-designed e-commerce tool can act as your virtual salesperson, giving them all the information they need on the spot.
If you have a friend that sells online, talk to them first and take advantage of their experience.
To help kickstart your online store, look at popular ecommerce solutions such as Shopify, BigCommerce and Magento.
3. Digitise your business - get into a digital marketing plan and social media
The best way to digitise your business, is to invest time and effort into a digital marketing strategy, even if your main customer base is local. This can make it easier for your customers to find you (online and offline) and get instant updates and news from your business, for example, if your opening hours or your offering change.
If you're not sure where to start, ask your customers what they'd like to know about you and where they 'hang out' digitally (e.g. Facebook, LinkedIn, Instagram etc.) to connect with them there.
4. Digitise your business - get organised digitally
Moving your admin online could help streamline your operations and decluttering your life. Once you have a safe, secure storage digital location for business documents, you may soon find that it's really easy to create, save and find documents online.
You could, for example, take your bookkeeping online with software like Xero, save documents on the cloud, keep notes digitally using applications like Evernote or OneNote or start using tools like Trello to manage your projects.
5. Digitise your business - Manage your finances online
Most business-related financial transactions can also be done online these days. From transferring money to sending invoices, checking on payments or paying suppliers. You might have to purchase some software, but it's usually not expensive and can be worth the investment. However, make sure you use all the recommended safety features. It might also be a good idea to seek professional advice on the best tools before downloading them.

You may find these useful
Important information
This article is a general overview and should be used as a guide only. We recommend that you seek independent professional advice about your specific circumstances before acting.
© BankSA - A Division of Westpac Banking Corporation ABN 33 007 457 141 AFSL and Australian credit licence 233714.