Beware of fraudulent emails
Beware of hoax emails designed to look like they've come from BankSA, they are fraudulent.
Remember BankSA will never ask you to update, verify or correct your Internet banking details directly into an email reply.
Latest Scams
To keep you informed of what to look out for and how to better protect yourself against digital, phone, email, SMS and other threats, our latest scams page provides regular and up-to-date information on some of the latest scams.

Trojans
Malware is malicious software also known as Trojans which are inserted into a computer system for the purpose of causing harm, such as stealing personal and financial information.
How to Identify a Trojan
Symptoms to look for:
Any unusual pop ups asking for personal or financial information, such as credit cards or date of birth
Unfamiliar banking processes such as requests to verify payments, entering secure codes where you did not add payee(s)
Unusual changes to the Internet Banking pages, e.g. displaying upgrade or 'under maintenance' messages
Irregular webpage layout such as missing fields or additional buttons.
Significant slowness in logging on (up to 3 mins)
A "Please Wait" message will replace the login button after being pressed.
What to do if I suspect I have a Trojan?
Trust your instinct if something feels suspicious. If it doesn't look quite right, err on the side of caution and assume it's not right.
'ASSURE' yourself and stay 1 step ahead of the fraudsters:
Abort what you are doing - close the browser or exit the app
Seek security software updates
Scan your PC/Device to remove threats
Use another device, check for anomalies and payment history
Report any suspected fraud immediately
Enquire further if in doubt.
Online security help is at hand
If you don't have security software, we suggest you use one of the free security tools available online. If you believe your system has been compromised, or notice a transaction you did not make, contact the BankSA on 13 13 76 immediately.

Email Scams
How do I know it's a hoax email?
Some hoax emails are easy to identify because they're poorly worded and may contain grammatical and spelling errors. But others can look very real!
Some ways to spot a hoax email:
Does it instruct you to click on a link to Internet Banking logon page, open an attachment or call a number?
Does it ask for sensitive financial information or for you to confirm the security of Internet Banking?
Does the email have poor grammar and punctuation? Check the sender's email address; does it appear to come from a legitimate source?
Familiarise yourself with some of latest scam emails.
An example of some things to look out for: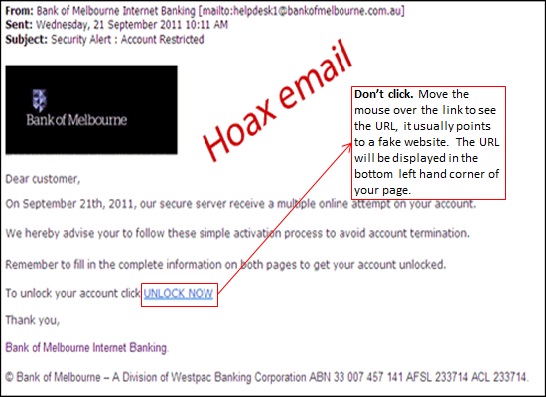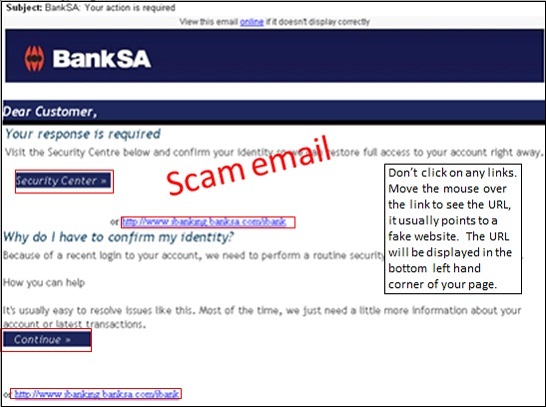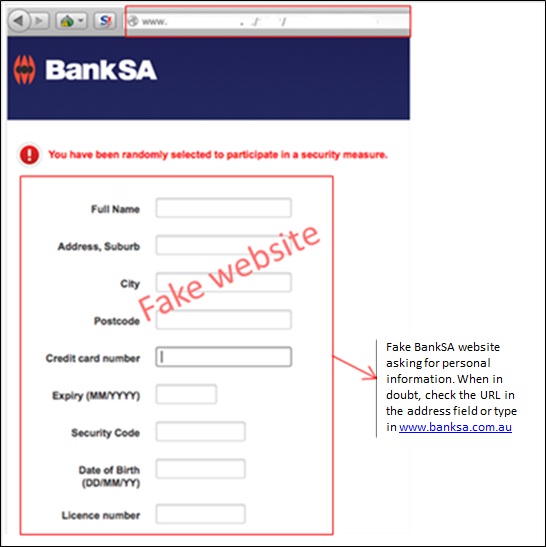 What do I do if I receive a hoax email?
Do not click on any links or open any attachments within the content of the email.
Do not respond directly without verifying the legitimacy of the request either by checking the information on our website or by calling the BankSA on 13 13 76.
Reporting scams is really important as it allows us to quickly investigate the information you've sent and use it to minimise the chance of others being affected.
Just email details to hoax@banksa.com.au. While we monitor this email inbox 24/7, we're unable to respond directly to individual emails.
If you are using a computer in an office/corporate environment it is good practice to inform your systems administrator of any suspicious emails.
What do I do if I've opened a link or attachment in a suspicious email?
Perform a scan for possible Trojans using your security software
If you do not have security software, we suggest you use one of the many free tools available online. See software protection for examples.
If you believe that you may have entered a hoax website, please call BankSA on 13 13 76.
Note: do not use BankSA Internet Banking until you have up-to-date security software on your computer.
Some ways to spot a fake website
Check the URL in address field. If in doubt, go to www.banksa.com.au and sign in to Internet Banking from there
Is the page asking for personal or banking information such as credit card details or date of birth?
What do I do if I receive a hoax SMS message?
Do not click on any links within SMS message and do not reply to it.
If you receive any SMS message that you have not requested or are expecting, and you're suspicious, please contact us on 13 13 76 to confirm the authenticity of the message.