Securely pay with your fabulous face

Make the most of a great way to pay
Simple
Travelling light and want to stay contact-free? It's easy to link your eligible BankSA Visa debit, credit, or Freedom card to Apple Pay.
Fast
Set up your digital wallet with a compatible iPhone, Apple Watch, Mac, or iPad in just a few steps.
Secure
Device-specific numbers and unique transaction codes help keep your card and personal details secure.
Contactless
Make payments for any amount in-store, in-app, and online using Face ID or Touch ID.
Use Apple Pay wherever you see one of these symbols.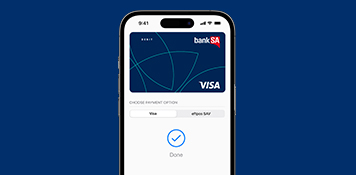 Open Apple Wallet on your iPhone.
Tap the plus sign (+) to get started.
Tap BankSA under the From Apps on your iPhone heading.
Logon at the authentication screen.
Select the cards you would like to add and follow the prompts.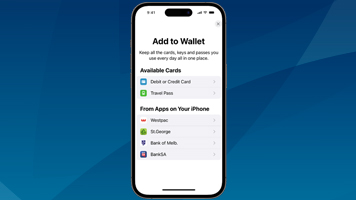 Note: If you do not have the BankSA mobile banking app installed on your device, this feature will not work. If you have multiple mobile banking apps, all apps will appear.
Check for the 'tap to pay' symbol on the card reader, then activate your Apple wallet:
With Face ID on your iPhone: Double-press the side button, glance at your screen, then hold your iPhone near the card reader.
With Touch ID on your iPhone: Put your iPhone close to the card reader, holding your finger on Touch ID.
On your Apple Watch: Double-press the side button and hold your Apple Watch up to the card reader.
BankSA Credit Cards
BankSA Australian Medical Association Gold Visa
BankSA Law Society Gold Visa
BankSA Gold Low Rate Visa
BankSA Gold Advantage Visa
BankSA Vertigo Platinum
BankSA Amplify Rewards
BankSA Amplify Rewards – Qantas
BankSA No Annual Fee Visa
BankSA Visa
BankSA Cricket Association Classic Visa
BankSA Start Low Stay Low Visa
BankSA Amplify Platinum Visa
BankSA Amplify Signature Visa
BankSA Vertigo Classic Visa
BankSA Debit Cards
BankSA Visa Debit
BankSA Visa Gold Debit
BankSA Get Set Visa
BankSA Freedom card
Important information
This information does not take your personal objectives, circumstances or needs into account. Consider its appropriateness to these factors before acting on it.
To use your eligible BankSA card with Apple Pay you must be registered for BankSA Internet Banking and use an Australian mobile number for BankSA Secure Code. Read the BankSA Internet and Phone Banking Terms and Conditions (PDF 305KB) at banksa.com.au before making a decision and consider whether the product is right for you.
*Read the Apple Pay Terms and Conditions (PDF 47KB) before making a decision and consider if it is right for you. To use Apple Pay you will need an eligible card, and a compatible device with a supported operating system. See our Apple Pay FAQs for more information. Apple, the Apple logo, Apple Pay, Apple Watch and iPhone are trademarks of Apple Inc., registered in the U.S. and other countries. App Store is a service mark of Apple Inc.