Slice up your credit card bill with Plan&Pay
Pay 0% interest on purchases
Make new purchases easier to handle with zero interest – all you'll pay is an upfront fee.1
Tackle your balance
Get on top of your credit card balance with a structured instalment plan and reduced interest.3
Tailor timeframes
Choose from either 3, 6 or 12 months to pay back purchases and between 3–36 months to pay off your balance – whatever works best for you.
Make a plan to pay off purchases, your balance or both
Bought a new fridge, bike or holiday with your credit card and want to pay it off over time? With Plan&Pay, you can convert big purchases into smaller set instalments2 – and the savings can really add up.
Use on any purchase over $200 that you've made on your credit card within the last 30 days.
Pay it back over 3, 6 or 12 months.
0% p.a. interest. Just pay an upfront fee based on a percentage of the purchase amount on your chosen plan (1% for 3 months, 2% for 6 months or 4% for 12 months). 1
Minimise interest
Whether you're paying off your balance or a big-ticket item, Plan&Pay could save you interest over time.2
Repayment flexibility
Choose the repayment timeline that suits you best. Plus, you can have up to eight active Plan&Pay plans at once.
Complete visibility
See your plans, upcoming repayments and outstanding balances when you logon to the App.
Cancel any time
You can cancel your Plan&Pay at any time (or pay it off sooner) without any extra fees. The standard variable rate of interest will apply to any remaining balance.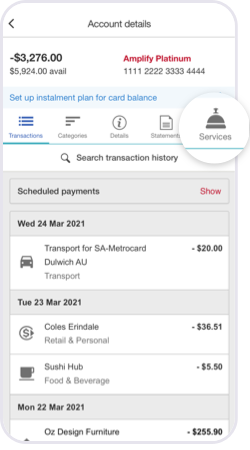 1. Select Plan&Pay
Click the 'Services' bell on your credit card Account details page, then select 'Plan&Pay instalment plans'.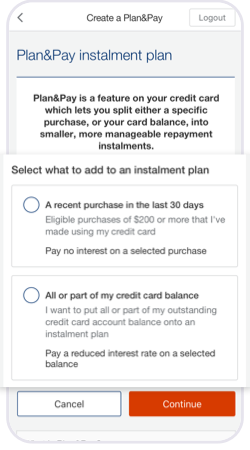 2. Make a plan
Choose to set up a Plan&Pay plan for any recent eligible purchase, or to pay off your balance.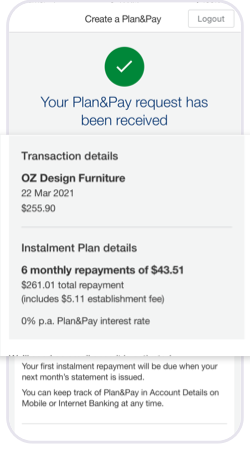 3. Confirm the details
Fill out the remaining information, choose your repayment schedule, then hit confirm to finish.
Some common Plan&Pay questions answered
Simply logon to Internet Banking or the BankSA Mobile Banking app to set up and manage a Plan&Pay Instalment Plan. To create a Balance Plan&Pay, choose either a credit card balance, or a Balance Transfer balance with 3 or more calendar months remaining on the balance transfer period. You also have the option of choosing a Cash Advance Balance.
To create a Purchase Plan&Pay, simply view your recent transactions. Any purchase of $200 or more made within the last 30 days will have the option to'Pay off in instalments' at 0% p.a. interest. An upfront fee will also apply.1
Things you should know:
1. 0% interest rate applies to Purchase Plan&Pay only. The establishment fee payable varies depending on the instalment plan term plan selected and will be added to your account balance. If you're close to your credit limit, check this fee won't take you overlimit.
2. Subject to the BankSA Credit Card Terms and Conditions (PDF 535KB).
3. Balance Plan&Pay plans have different interest rates. Logon to your Internet or Mobile Banking to compare Balance Plan&Pay rates against your standard rates.
This information does not take your personal objectives, circumstances or needs into account. Consider its appropriateness to these factors before acting on it. Read the Credit Card Terms and Conditions before deciding. Unless otherwise specified, the products and services described on this website are available only in Australia from
 © BankSA - A Division of Westpac Banking Corporation ABN 33 007 457 141 AFSL and Australian credit licence 233714.