Rear Admiral the Honourable Kevin Scarce AC CSC RAN (Rtd)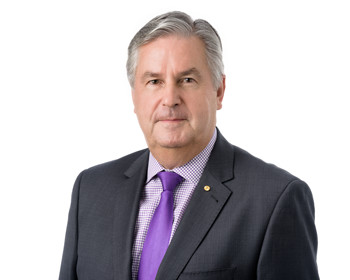 Rear Admiral Scarce was formerly Governor of South Australia who, prior to his appointment as the State's 34th Governor, held a series of executive positions in support of South Australia's and Australia's defence agenda.
Notably, Mr Scarce was appointed to the role of Royal Commissioner for the Nuclear Fuel Cycle Royal Commission in February 2015.
A highly distinguished naval officer, Mr Scarce is a recipient of the Companion of the Order of Australia (General Division), Officer of the Order of Australia (Military Division, Member of the Order of Australia (Military Division) and Conspicuous Service Cross, in addition to a number of service accolades.
Mr Scarce is also Chair of Cancer Council SA, Deputy Chairman of Seely International, Director of APC Technology, Patron of Far East Strategic Reserve - Anglicare, Patron of Barkuma, Ambassador of CanDo, President of Novita Children's Services, and Chancellor of University of Adelaide.
A passionate South Australian with a strong charitable ethos, Mr Scarce brings broad knowledge and state advocacy to BankSA.