Go Digital with BankSA eStatements
BankSA eStatements are a paperless electronic version of your account's bank statement. They hold the same information as your paper statements. They're easily accessible through BankSA Mobile Banking and Internet and are a paperless and secure way to receive your statements.
More secure
Protect yourself and lower your risk of identity theft by receiving statements securely within Mobile and Internet Banking. No more lost paper bank statements.
Convenient
Anywhere, anytime you need your eStatements, you can see them in Mobile and Internet Banking. You can also save and print them if you need to do that.
Less mess
Store eStatements neatly online instead of all over the kitchen bench. Locate and find what you need when you need it through BankSA App or Internet Banking.
Extra benefits of eStatements
Updated with your latest transactions

30, 60 and 90-day transaction reports always available with your latest transactions.
Helpful for Tax time

Easily provide eStatements to accountants and 3rd parties when they need them.
Access for seven years

View up to seven years of statement history through your BankSA App or Internet Banking.
Statement notification

Opt in for eStatements and never miss out. We'll email you every time your statement's ready.
How to switch to eStatements?
Mobile Banking
Step 1. Logon to Mobile Banking.
Step 2. Tap Services at the base of your screen.
Step 3. Tap Manage eStatements under My Statements and Mail.
Step 4. Tap the envelope icon to switch your eligible accounts to eStatements.
Step 5. Tap Agree.


Internet Banking
Step 1. Logon to Internet Banking.
Step 2. Select Manage my accounts from the left-hand navigation menu.
Step 3. Select Manage eStatements.
Step 4. Change your statement preference to eStatement.
Step 5. Click Agree.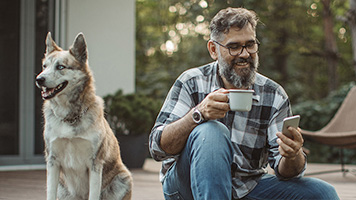 Switched to Digital Mail yet?
If you haven't already, you can switch to Digital Mail. You'll receive account letters and communications paper free, faster, and more securely, protecting yourself against identity and mail theft.
Mobile Banking
Step 1. Logon to Mobile Banking
Step 2. Select account
Step 3. Select statements along the top navigation

Internet Banking
Step 1. Logon to Internet Banking
Step 2. Select the account
Step 3. Select View eStatements