Our EFTPOS payment solutions
Improve cash flow with EFTPOS payment solutions.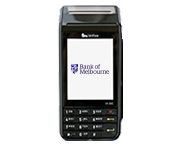 A stand-alone machine for your counter that's also portable. The EFTPOS 1 machine is light-weight and looks great on the counter
EFTPOS 1 is mobile and comes with a connected cradle to provide power while 3G provides high speed wireless portability
Large colour touch screen with easy-to-read illuminated display
Contactless, compatible with most cards
Integrate loyalty and rewards programs via your EFTPOS terminal1
Gift cards selection to your customers
Authorise and accept cheques through your EFTPOS terminal with Equifax.
Important information
1. To access additional services you'll need to enter a separate agreement with the third party provider of the service.
2. Legal and taxation advice services are not provided by BankSA. Advice is available by email only and provided by Legal Access Service Pty Ltd ABN 89 089 055 685. A maximum of 3 contacts can be made in relation to any one issue. After the third contact you may choose to engage the legal or accounting adviser at your cost. Legal Access Services (LAS) is an independent service provider, not a law firm, nor owned by BankSA The provision of the legal advice and information services are supported by independent panel of law firms, who do so on behalf of LAS. BankSA accepts no responsibility for any advice provided by these independent law firms. The free online tax and legal advice is subject to the Service Level Statement and Terms and Conditions available on the LAS website.
Conditions, fees and credit criteria apply. All applications for a BankSA payment solution are subject to approval.
Before making a decision, it's best to read the terms and conditions.
EFTPOS Merchant Agreement Terms & Conditions
The information on our website is prepared without knowing your personal financial circumstances. Before you act on this, please consider if it's right for you. If you need help call 1800 804 411.
Visa ® is a registered trademark of Visa International Pte Ltd.