Protect your computer against hackers
Take some simple steps to secure your information and reduce your risk of falling victim to online threats. Read tips on computer security and find out how you can protect your computer from viruses and other threats.
Use security tools
The following security tools can help protect your computer and personal information when you are online.
Anti-spyware protection. Use a current anti-spyware protection program to detect and remove spyware from your computer.
Anti-virus protection. Ensure that your computer has an up-to-date anti-virus protection program to detect and remove viruses.
Firewall. Utilise a firewall to prevent unauthorised users from gaining access to your computer or network.
Operating system, browser and software updates. Keep up to date with software fixes (also known as "patches" or "security updates").
Use a current Web browser. The newest browsers will maximise your security.
Use PCs and software from trusted sources. Avoid installing programs and opening unsolicited email attachments from people or organisations that you do not know. Avoid using public computers for secure transactions, as you may be unable to check for the latest anti-virus software.
Make sure the Internet Banking site is genuine
Look for the green address bar
Use only secure sites when entering personal information or logon details. Look for the green address bar that appears at the top of your Web browser. A green address bar means that communication between your browser and website is encrypted and secure.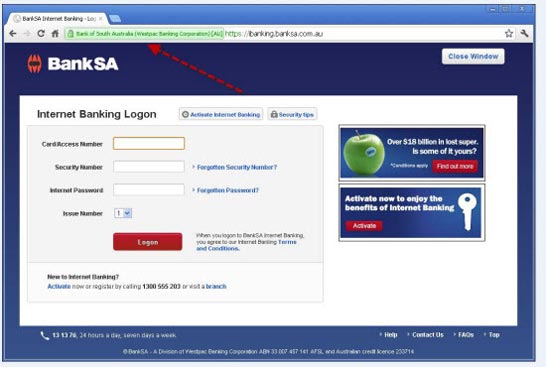 Verify that the connection is secure
To verify that the connection is secure, click the green address bar. Here you will be able to see information about the sites security.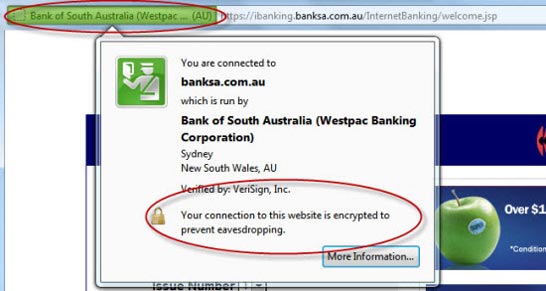 Always logon and logout of Internet Banking correctly
Always logon to Internet Banking by typing www.banksa.com.au directly into the address field of your browser, then click on the logon button on the home page. Never logon to Internet Banking by clicking a link embedded in an email.

Always log out of Internet Banking by clicking the Logout button. As additional protection the Internet Banking application will time out after 20 minutes of inactivity.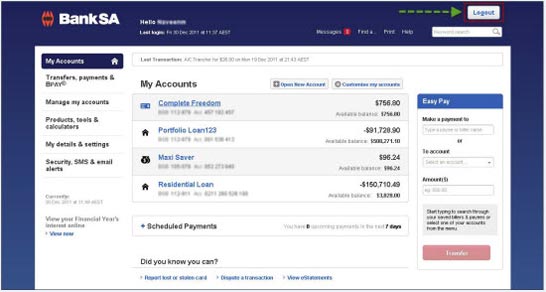 Tick "Remember me" for fast and secure access
We've introduced a 'Remember me' box on the Internet Banking logon screen, so you can choose to use fewer credentials when you logon.
Using the 'Remember me' option is subject to the same high level of security as all our other authentication methods and is covered by the BankSA Security Guarantee.
However, if you are sharing a computer or using a public computer such as an internet café we recommend you to logon using your full credentials instead.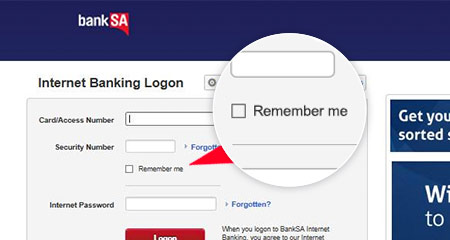 Contact an Internet Banking specialist
Call us
Email us
Visit a branch