High schooler looking for an everyday account
Start out in the right direction with a Complete Freedom account
No account-keeping fees
Every dollar counts! You won't pay any account-keeping fee on your Complete Freedom transaction account
Part time job?
Arrange to get paid straight into your new account
ATMs everywhere!
Use any major bank ATM in Australia without having to pay an ATM withdrawal fee (other fees may apply)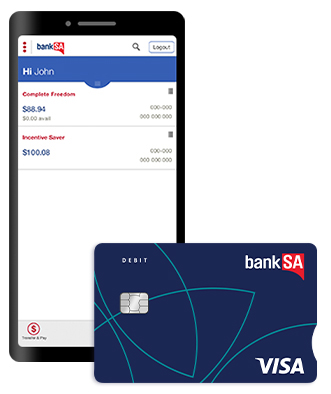 Easy access to your money


Visa Debit Card

In a store, overseas, online or on the phone – pay for what you need with your own money using a Visa Debit card (if you're 12 or 13, you can request a Freedom card in branch)1.

Mobile Banking

With the BankSA mobile banking app you can take your bank with you on your phone – see how much you've got in your account with just a swipe, transfer money between your accounts and find your nearest ATM.

Apple Pay
Fast, secure, contactless. Apple Pay lets you pay in-store and online with your BankSA Visa Debit card using your favourite Apple device. Find out more
Smarter ways to manage your own money
The technical stuff
Before making a decision, please read the terms and conditions and ensure you're aware of all fees and charges.
Getting started is as easy as 1, 2, 3...
2.
Start using your account instantly online while we get your Visa Debit card in the mail
3.
Already have a job? Ask your employer to deposit your pay straight into your account– the same goes if you get an allowance from your parents
1. To be eligible for a Visa Debit Card, you must have an Australian residential address and be 14 years old or over. If you're 12 or 13 years old and have an Australian residential address, you can request a Freedom Card in branch.

2. Cardless Cash limit of 3 cardless transactions per day, subject to daily withdrawal limit of $500 and weekly withdrawal limit of $1,000. All Cardless Cash limits apply across BankSA/ St.George/ Bank of Melbourne and Westpac accounts and Mobile Banking apps.


Cardless Cash is only available on the above accounts if the account is active and is not subject to an account block/restriction. An account may be subject to a block/restriction for a number of reasons including bankruptcy and account disputes.


3. The Spend Tracker tool provides general information only and does not take into account your personal circumstances. It is intended to be a guide only.

Read the
Apple Pay Terms and Conditions (PDF 47KB)
before making a decision and consider if it is right for you. To use Apple Pay you will need an eligible card and a compatible device with a supported operating system. See our
Apple Pay FAQs
for more information. Apple, the Apple logo, Apple Pay, Apple Watch and iPhone are trademarks of Apple Inc., registered in the U.S. and other countries. App Store is a service mark of Apple Inc.