An accomplished and accessible concession card account
$0 monthly service fee
with no monthly deposit needed.
Global ATM Alliance
No ATM withdrawal fee at any major bank ATM in Australia and over 50,000 ATMs around the world via the 
Global ATM Alliance
and partner ATMs (other fees may apply)
Fraud protection
We'll refund you 100% of any money taken from your account if you're a victim of fraud provided you let us know right away1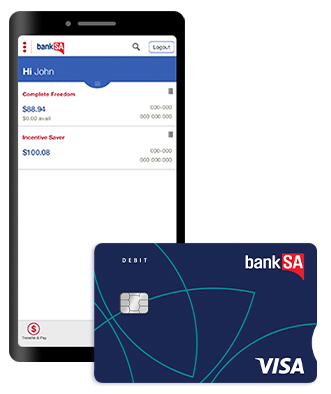 Easy access to your money at home and overseas

Visa Debit Card
With a Visa Debit card you can use your own money to shop instore, online or over the phone. You can also use Visa payWave for purchases under $100, so you all need to do is wave and go without needing to enter a PIN.
+

Mobile Banking

Manage your money on the go with the BankSA mobile banking app. Not only can you check your account balance with just a swipe, you can also transfer money between accounts or to someone else, find your nearest ATM and keep tabs on your transactions.
Fees and charges
FREE

eftpos and Visa Debit transactions

$0.00

Monthly account service fee


FREE

ATM use in Australia (BankSA/ St.George Bank/ Bank of Melbourne and Westpac ATMs in Australia)

FREE

Internet, mobile and phone banking transactions


3.00%

Foreign currency conversion

$2.00

Frequent statement (request statement outside of cycle)

FREE

Staff assisted (branch and telephone)

$0.20

ATM mini transaction history request (BankSA/ St.George Bank/ Bank of Melbourne and Westpac ATMs in Australia)
In detail
Before making a decision, please read the terms and conditions and ensure you're aware of all fees and charges.
1. Our BankSA Fraud Money Back Guarantee ensures that customers will be reimbursed for any unauthorised transactions provided that the customer has not contributed to the loss and contacted BankSA Promptly. Refer to your card's conditions of use for full details, including when a customer will be liable.
2. The Spend Tracker tool provides general information only and does not take into account your personal circumstances. It is intended to be a guide only.