An everyday bank account with features to help you access your money with ease
$0 account-keeping fee
We've removed our account-keeping fee for all our customers, so there's no need to make a minimum deposit each month 
$0 dishonour & overdrawn fees
If you have insufficient funds in your account to cover the transaction amount or your account is overdrawn
$0 ATM fees
ATM cash withdrawals in Australia (ATM providers may charge a fee – watch out for that!)
Fraud Protection
We'll refund you 100% of any money taken from your account if you're a victim of fraud provided you let us know right away1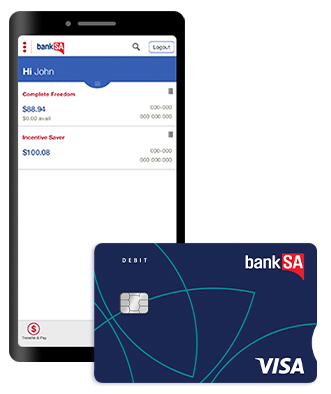 Easy access to your money at home and overseas

Visa Debit Card
With a Visa Debit card you can use your own money to shop instore, online or over the phone. You can also use Visa payWave for purchases under $2003, so you all need to do is wave and go without needing to enter a PIN.
+

Mobile Banking

Manage your money on the go with the BankSA mobile banking app. Not only can you check your account balance with just a swipe, you can also transfer money between accounts or to someone else, find your nearest ATM and keep tabs on your transactions.
Features to help you keep track of your money
In detail
Before making a decision, please read the terms and conditions and ensure you're aware of all fees and charges.
How to apply?
The Concession Account is available to anyone who has one of the following concession cards:
Commonwealth Seniors Health Card
Health Care Card
Pensioner Concession Card
Apply in branch or over the phone
Important information
1.Our BankSA Fraud Money Back Guarantee ensures that customers will be reimbursed for any unauthorised transactions provided that the customer has not contributed to the loss and contacted BankSA promptly. Refer to your card's conditions of use for full details, including when a customer will be liable.

2.The Spend Tracker tool provides general information only and does not take into account your personal circumstances. It is intended to be a guide only.
3. As at 7 April 2020, the Visa payWave transaction limit has been temporarily increased from $100 to $200. This is a temporary increase, that is being progressive rolled out, and will be only available on certain cards and payment terminals at certain retailers. Customers are encouraged to follow the prompts at each terminal to determine whether a PIN is required. This increase to the Visa payWave limit is part of an industry-wide response to help reduce the spread of COVID-19.
Read the
Apple Pay Terms and Conditions (PDF 47KB)
before making a decision and consider if it is right for you. To use Apple Pay you will need an eligible card and a compatible device with a supported operating system. See our
Apple Pay FAQs
for more information. Apple, the Apple logo, Apple Pay, Apple Watch and iPhone are trademarks of Apple Inc., registered in the U.S. and other countries. App Store is a service mark of Apple Inc.