Convenient and secure card access to your money – at home and overseas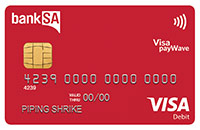 A Visa Debit Card1 is not a credit card – it's a debit card with no annual fee that gives you convenient access to funds in your transaction account in Australia and around the world – anywhere Visa is accepted.
You can shop securely online, at home, over the phone, or overseas – wherever Visa is accepted. Best of all, you can use your own money from your account (not credit from a credit card).
Withdraw cash at ATMs in Australia and around the world (just look for the Visa logo)
Link up to two accounts to your Visa Debit card and enjoy instant access to your accounts by pressing 'CHQ' or 'SAV'.
Security – Added protection with chip technology, giving you the latest card security.
Speed - For a simple and fast payment option, choose Visa payWave. Just wave and go. There's no need to enter a PIN or sign for purchases under $100.